CREATINE ANABOLIC 690G – FRUIT FUSION
$100
Maximise creatine absoption
Accelerate lean muscle gains
Optimise muscle performance
Description
ADVANCED CREATINE TRANSPORT AND MUSCLE CELL REHYDRATION SYSTEM.

WHY CREATINE ANABOLIC ?
Creatine Anabolic is an advanced creatine transport and muscle cell rehydration system, designed to optimise muscle development and performance.
Creatine Anabolic is scientifically engineered to maximize creatine absorption in order to significantly increase strength and sprinting performance, boost cellular ATP (Adenosine Tri-Phosphate) levels and accelerate gains in lean muscle mass.


ULTRA-5-StackTM in Creatine Anabolic consists of 4 ultra pure forms of creatine and glycocyamine to help promote uptake and internal efficacy, while still promoting natural creatine formation. It's being transported by USN's dual-carb carrier in the form of ultra-fast acting maltodextrin and waxy maize starch, and then forced deep into the muscles by USN's dynamic driver Insuforce™. This immediately induces an anabolic effect for optimal creatine and glycogen saturation.
Myoforce MATRIX™ offers a high dose of Beta-Alanine that increases intramuscular carnosine concentrations. This plays a critical role in muscle performance. The other scientifically researched ingredients in Myoforce MATRIXTM also support glycogen synthesis, protein synthesis and nitrogen retention, while helping to prevent protein breakdown in muscle.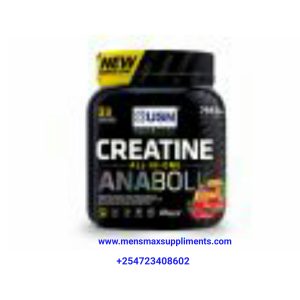 WHEN TO TAKE CREATINE ANABOLIC
3 times daily as directed.
POTENTIAL BENEFITS OF CREATINE ANABOLIC
Maximise creatine absoption
Accelerate lean muscle gains
Optimise muscle performance
SIZES
690g
FLAVOURS
Grape
    Fuit Fusuion
DIRECTIONS FOR USE
Mix ±1 scoop (30g) with 200-250ml water for a serving. For the first 5 days (loading phase): Take 1 serving three times daily, 1 in the morning when you wake up, 1 before your workout and the other immediately after. On non-training days, spread the 3 servings throughout the day. Maintenance phase (after 5 days): Take 1 serving daily, immediately after exercise, or on non-training days, after waking up. Servings may be halved, if required. IMPORTANT: Remember to have at least 8-12 glasses of water per day. Note that the beneficial effects of creatine will only be obtained with a daily intake of at least 3g creatine.
NUTRITION