Fenugreek Pills- buy Fenugreek Supplement in Nairobi Kenya Uganda Tanzania Sudan Ethiopia Somalia Fenugreek Products Online
$85
Fenugreek Benefits:
Balance cholesterol.
Soothe upset stomach and digestive problems.
Reduce menstrual cramps.
Reduce appetite.
Reduce fat mass.
Maintain liver and kidney health.
Soothe muscle pain.
Reduce fever.
Description
What is Fenugreek Pills
Firstly Fenugreek has been used in alternative medicine as a possibly effective aid in lowering blood sugar levels after a meal in people with type 1 or type 2 diabetes. Fenugreek Pills therefore have several benefits.
Secondly Its seeds have a healthy nutritional profile, containing a good amount of fiber and minerals, including iron and magnesium
Thirdly Fenugreek has been used in alternative medicine to treat heartburn, high cholesterol, weight loss, upset stomach, constipation, "hardening of the arteries (atherosclerosis), gout, sexual problems, fever, baldness, to increase the production of breast milk, and other conditions. However, these uses have not been proven with research. Fenugreek is an interesting herb with diverse uses and many potential health benefits.
Similarly Research suggests that Fenugreek Pills may increase breastmilk production and the rate of weight gain in newborn babies.
Important Information
Most importantly, Follow all directions on the product label and package. Tell each of your healthcare providers about all your medical conditions, allergies, and all medicines you use.
Initial research suggests that fenugreek can boost testosterone levels and sexual function in men.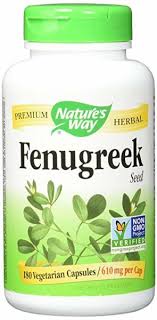 Before taking Fenugreek Pills
Before using fenugreek, talk to your healthcare provider. Additionally you may not be able to use fenugreek if you have certain medical conditions.
Ask a doctor, pharmacist, or other healthcare provider if it is safe for you to use this product if you have:
low blood sugar levels (hypoglycemia); or
bleeding or blood clotting disorders.
Do not give any herbal/health supplement to a child without medical advice. Fenugreek might be unsafe for children.
To sum up evidence supports fenugreek's role in blood sugar control and the treatment of type 1 and 2 diabetes.
What should I avoid while taking Fenugreek Pills?
Avoid using fenugreek together with other herbal/health supplements that can also affect blood-clotting. This includes angelica (dong quai), capsicum, clove, danshen, garlic, ginger, ginkgo, horse chestnut, panax ginseng, poplar, red clover, saw palmetto, turmeric, and willow.
Avoid using fenugreek together with other herbal/health supplements that can lower blood sugar, such as alpha-lipoic acid, chromium, devil's claw, garlic, guar gum, horse chestnut, Panax ginseng, psyllium, Siberian ginseng, and others.
Get emergency medical help if you have signs of an allergic reaction: hives; difficulty breathing; swelling of your face, lips, tongue, or throat.
Stop using fenugreek and call your healthcare provider at once if you have:
symptoms of severe hypoglycemia: extreme weakness, confusion, tremors, sweating, fast heart rate, trouble speaking, nausea, vomiting, rapid breathing, fainting, and seizure (convulsions); or
unusual bruising or bleeding.
Common side effects may include:
diarrhea, stomach upset, gas;
"maple syrup" odor in the urine.
What other drugs will affect Fenugreek Pills?
In conclusion Other drugs may interact with fenugreek, including prescription and over-the-counter medicines, vitamins, and herbal products. Tell each of your health care providers about all medicines you use now and any medicine you start or stop using.