Description
O'Carly Gluta-Magic 7 Days Hair Tonic Ginger Germinal Regrowth Oil
Highlights
Ginger Hair Growth Serum is the powerful hair oil which reduces the appearance of thinning hair, and stops hair loss. Secondly, the activated herbal oils thicken and repair existing hair. Thirdly, the blend of nutrients aids regrowth of damaged hair follicles.
Generally, the treatment begins to work immediately. In fact the hair becomes noticeably thicker and fuller within 7 days of continuous use.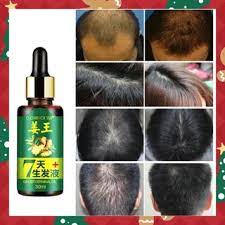 7 Days Hair Tonic Features
7 Days Hair Tonic accelerates hair growth and thickening by 30%-40%, meaning twice the results in half the time.
Secondly, its a powerful and immediate repair of current damaged hair.
Similarly, it conditions hair to keep it healthy and tangle free throughout the day.
Actively strengthens and thickens hair, reducing hair bifurcation and unsightly split ends.
Stimulates the scalp and prevents the production of DHT (a damaging compound which causes follicles to shrink). This prevents further loss, allowing your hair to thrive.
It  effectively penetrate the scalp and strengthen hair root.
Lastly, its effective for the regrowth of the Hair Line.
Applicable Hair Symptoms
Slow hair growth, hair urgent need to grow, inelastic, if your hair is tangled and dull. Also if your hair is easy to break, rough and unruly. not supple.
By the way it deeply nourishes and repairs damaged and dry hair. Additionally it smooths the frizzy hair making it supple and shiny.

Strengthen hair roots, reduce the appearance of hair loss, and promote hair follicles to grow more hair.
effectively promote hair growth, make hair follicle nourishing and active,
Specifications
Shelf life: 3 years. For both women and men.
7 Days Hair Tonic Usage
Wash your hair before use. When the hair is half dry, drop the product on the hair loss or the place where it needs to be grown. Try to drip on the scalp and massage it gently for 2-3 minutes with your fingertips until it is absorbed (No need to wash your hair again after use).
Agua
Panax Ginseng
Polygonum multiflorum
Angelica Polymorpha Sinensis
Thuja Orientalis

Propylene Glycol
Polysorbitol ester-20
Ethanol
DMDM Hydantoin
Pan alcohol
Potassium glycyrrhizinate two